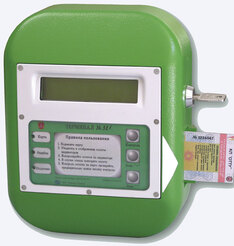 The city administration has the problem of elevator economy crisis. It badly influence on city dwellers.
At the time the elevator service money is included in flat bills. As a result at this the service companies do not get money in time and cannot make the elevator repairing in time.
The "City card" project can help to get all means for companies servies. It the organization has agreement with Accounting Centre, it gets means from this Centre without help of other companies.
To make this payment you have to lift your card to the elevator terminal.
The advantage of this project is the payment and distance conformity. The main advantages of this project are:
- lift service organizations can increase their means for their servies;
- they can also make elevator repairing in time. It gives the opportunity to keep the elevator economy in a good condition;
- decreasing of elevator idle run and energy using and increasing of their work term;
- increasing of salaries and service quality.
The "Fortuna" device
The "Fortuna" device is used for installation in a lift car as a device of payment for elevator using with the help of electronic cards (EC).
Main technical parameters:
The device dimensions – 170 x 140 x 90
The device weight – no more than 1 kg
Power supply voltage – 110/24 V
The highest level of using – 40 mA.
As a construction this device is a microprocessing unit with card receiver and reader which are put in a lift car.
The unit scheme has the current data unit, the commutation unit, the unit of commutation supply voltage output, the processor unit, the generation unit (it is used for card reading and its condition indication).
The principle of working:
The payment cycle consists of 3 parts: "waiting", "checking and payment", abolition".
At the "waiting" regime the lift car is on any floor and the card is not put in. After the card put in the card receiver the power supply (±12 V) is appeared. At that time the cycle of "checking and payment" is begun. Processor tries to read the card and if it does not have money ("zero" rest) or it is damaged (cannot be used for payment) the "red" signal is appeared.
If the card has more than 5 trips the "green" signal is appeared.
If the card has less than 5 trips the "green" signal winks.
At the following time the microprocessor waits for order button press. After the button press operation the microprocessor takes one trip from the card and the lift car begins to move.
At the beginning of moving the device is switched into the "abolition" regime. After the lift car stop the payment cycle is repeated.
Light indication and device initialization.
For the device initialization it is necessary to "zero" the device (it means to put the card of parameters changing in. At that time the trips counter and regions adjuster are abolished and the new using region is recorded from the parameters changing card.